COVID-19
Deliveries are still operational
Reduced price!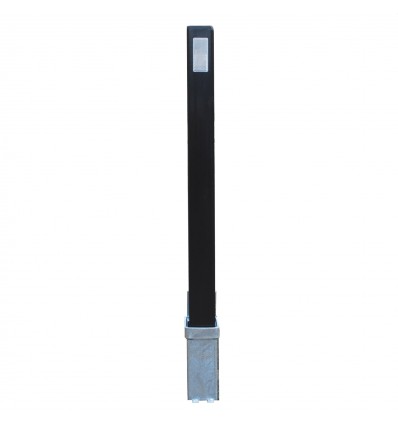 Black 100P Removable Post & Reflective Pads (001-0483 K/D, 001-0473 K/A)
Ultra Secure
New
Heavy Duty Removable Black Security Post with 2 x Reflective Pads, supplied with a locking padlock and ground spigot, when the post is not is use a hinged lid covers the ground spigot making it safe for pedestrians and vehicles to cross (Sorry, Temporary out of Stock !!).
This product is no longer in stock
Availability date:
Heavy Duty 100P Black Removable Posts are locked firmly into the ground spigot by a Padlock, the ground spigot has a top mounted hinged lid to completely cover the access hole over when the Post is not in use (ideal for locations where the general public & staff are passing by).
Supplied in good quality Black powder coating with White Reflective Pads mounted Front & Rear to help with Vehicle Safety.
The Post stands 790 mm when in position.
The ground spigot is 200 mm deep and is fixed into the ground using cemented or post mix, ideal for all types of applications including block paving, gravel, tarmac & concrete.
When the Post is not in use it would be stored away in a nearby building or vehicle boot, although a lot of customers will purchase a second ground spigot and have this fitted to the side of the access just to store the Post.
These Posts are often fitted with a single top mounted Chain Eyelets or a pair of Eyelets fitted on two side, ideal for use with Chain or Rope.
These posts are great value for money, they are strong & tall, easy to maintain, perfect for locations that could be prone to pedestrians or vehicles being at risk to objects left in the ground, or locations that were unfit for fully telescopic security posts due to underground services.   
Need Advice on choosing the best System for your personal application or Help after you have Purchased one, then please contact
us by:
Telephone: We are still available in the old fashioned way, give us a call on 01604 589414 or 01604 758438 to talk to a real person, we are happy to give you Friendly, No Obligation advice (lines open 8am to 5.30pm Monday - Thursday, 8am to 5pm Friday).
Email: If you don't have time to call us, then send us an email to info@ultrasecuredirect.com. 
 
Personal Visit: Some customers find it far easier to come and meet us for a Friendly, No Obligation Consultation (click here for full details).
1 x Black 100P Removable Security Post.
1 x Padlock & 3 Keys.
1 x Ground Spigot. 
2 x White Reflective Pads.
Post Height (above ground): 790 mm.
Package Height: 1000 mm. 
Steel Box Section: 70 x 70 mm. 
Steel Gauge: 3 mm.
Spigot: 200 mm Long.
Padlock: Yes (3 keys).
Keyed Alike Available: Yes.
Weight: 8 Kilo.
Colour: Black.
White Reflective Pads: Yes (front & rear).
26 other products in the same category:
Products from the same manufacturer