A protective Steel Cage A designed to help protect various Security devices from Damage or Theft.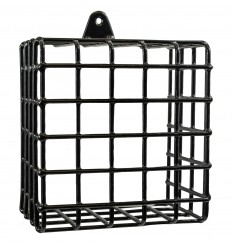 This Cage can help protect many products including the following devices:
The Cage would be fixed to the wall using the mounting brackets supplied and can simple be snipped in a desired space should you need to have a larger clearing in a particular location. 
Please Note:
The Cages are supplied with Security Screws (Torx T30 Tamper Proof), you will need a TX30 Bit (with hole) to use them, these are available from many outlets or can be found in some existing tool kits.
We can also supply them Here.
Need Advice on choosing the best System for your personal application or Help after you have Purchased one, then please contact
us by:
Telephone: We are still available in the old fashioned way, give us a call on 01604 589414 or 01604 758438 to talk to a real person, we are happy to give you Friendly, No Obligation advice (lines open 8am to 5.30pm Monday - Thursday, 8am to 5pm Friday).
Email: If you don't have time to call us, then send us an email to info@ultrasecuredirect.com. 
 
Personal Visit: Some customers find it far easier to come and meet us for a Friendly, No Obligation Consultation (click here for full details).